Before we talk about Liquitex Basics acrylic paints, let's talk about acrylic paints in general. I've been painting for more than sixteen years, so I'm familiar with a lot of the options out there. You learn so much when you've been working with a medium for that long! Over almost two decades, one of the things I've learned is that I prefer using acrylic paints, for a number of reasons:
I love that they are easy to layer.
Acrylics allow me to have a lot of control when I'm painting.
Acrylic paints dry quickly compared to oil-based paints.
I love the thickness of acrylics — but you can also thin them down with water when you need to!
They are very easy to clean up. Every artist knows this is important.
Acrylics hold up well over time on many surfaces, including canvas and wood.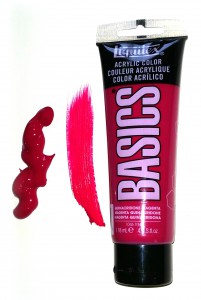 Trial and error has taught me which brands of paint I prefer over others. Liquitex Basics is one of my top brands of acrylic paints, simply because they excel in quality without costing an arm and a leg. I need my arms and legs ????
Liquitex Basics acrylic paints are great for students. If you don't know how to mix your own colors, that's no problem, since they have a large selection of custom colors to choose from. There are other professional grade Liquitex acrylic paints that come in various thicknesses and richer pigments. I suggest starting with a beginner's set of Liquitex Basics to see how well you like them.
Don't believe me? I'm not the only one who thinks so! Amazon reviewer Darcy Pennell said:
I'm just starting to learn acrylic painting and this set is perfect. It has all the colors necessary to mix up any color you could want. You really don't need anything other than what is here. If bought separately, these paints would cost around $50, so this price is a great value.
---
Header image: Gwen Seemel's acrylic painting of a cat chewing on a camera.