Hey everyone, Jeremy here.  I've spent the weekend up in Oklahoma City with my wife's family (check out Episode 7 of Artists' Corner for an interview with my mother-in-law Daniece Lyon) for our family Christmas get together.  We were sitting around and discussing where to go for lunch on Monday and Daniece mentioned there were a set of murals in a section of town to the northwest that's known for it's restaurants and antique shops.  So we headed out to check them out and see what else we could find.
Contact Light – 5600 N. Western
The first one we came across was "Contact Light" which portrays a woman surrounded by lines, points, and geometric patterns.
This ethereal work was inspired by the allusion to the vastness of the universe. It asks the viewer to interpret the subject as floating, levitating, falling, rising? The model is local artist and fellow mural artist Lauren Miller. We're all coming and going at different speeds, with differing perspective, on differing paths and this work showcases that. This is a dimensional piece where the floating figure appears to be coming off the wall through a geometric space and is the only mural created entirely from spray paint.
Having The Time Of Their Lives – 4616 N. Western
Next we saw "Having The Time Of Their Lives" depicting a group of kids having a carefree day in a nearby pond.
This mural is from a photo I took of children playing in a farm pond swimming. (Having the time of their lives). For me it brings back childhood memories of care free days and innocent fun. Since that mural is on an antique shop, what better way to recall the past then through remembering simple pleasures of the days gone by.
Fortune Favors The Brave – 4416 N. Western
Next we came across my wife and mother-in-law's favorite, "Fortune Favors The Brave" with the scissor-tails and flowers.
Alluding to the resilience of Oklahomans to withstand overwhelming natural and man-made disasters. No matter the hardships, we always bounce back and treat everyone with kindness, free of embitterment. The muse for her piece is a local 14-year old girl who is beautiful inside and out. She is crowned with florals and scissor-tailed flycatchers rendered in kimono style to represent Julie's Japanese heritage.
Red Tail Hawk – 4200 N. Western
Next was my personal favorite, "Red Tail Hawk".
Inspired to show an Oklahoma icon as a spirit guide with a message of change. Jason utilized motion and orientation to project the wisdom of seeing situations from a higher perspective.
Oklahoma Aiukli – 3704 N. Western
Next was "Oklahoma Aiukli" – another favorite of my wife.  She especially liked the catfish in the hair and I thought the background was interesting with variations on shapes to the left and colorful squares on the right.
When we were offered the this chance and given carte blanch to create a mural, our first thought was just to create something positive and uplifting that would be symbolic of all that is beautiful in Oklahoma.

Finding a vision with all those qualities was not an easy task, but the answer came in the form of a 13-year old Choctaw girl named Bella Aiukli. As an active member of her tribe, she embodies many of the qualities that we wanted to convey in our piece. She's connected to her roots in Oklahoma, but also a positive role-model to her peers and esteemed by everyone who knows her.

Our goal was to create a way for our mural to interact with the audience and allow them to connect with the art in their own ways. Our "Oklahoma Aiukli" has her hands outstretched as though she is carrying something precious. The audience will be able to "stand" in her outstretched hands and insert themselves into the modern Oklahoma mural bathed in white light.
More information and photos of these beautiful murals can be found at the Taste Of Western website, where these quotes were pulled from.
You Could Be A Mural Artist Too!
If you're interested in becoming a mural artist or know someone who you think would be interested, we're offering a final sale on our "Mural Techniques: Faux Finishing & Landscapes" course before the course starts on Monday, December 28th!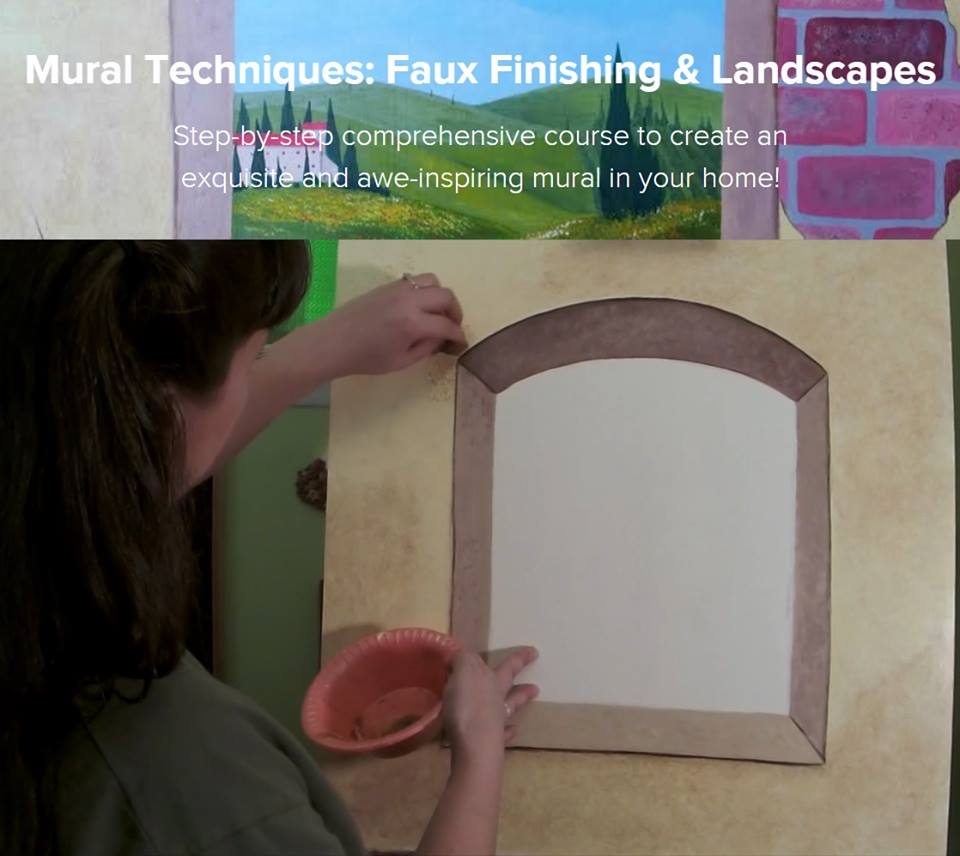 If you enroll before Sunday December 27th at midnight, it only costs $84.  Not only do you have the course for life – making it much easier and more convenient than a traditional art class as you can work from the comfort of your own home, at your own pace, and re-watch each section as many times as you need to – you'll get a bonus "Watercolor Basics: Drip Techniques" course for free!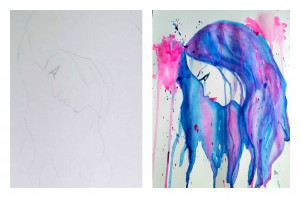 That's a $148 value for only $84…a $64 savings!
This course takes you step-by-step from sketching out design ideas to the finishing brush strokes of your very own mural painting.  Bre has been teaching art classes for several years now and has touched many lives through art.
"Bre is a good and encouraging teacher!" – Vikki K.
I mentioned you can purchase this course (and the bonus) as a gift and that's a little different than enrolling yourself.