Liquitex is a leader in quality art products. They carry many lines of paints and mediums that artists prefer and depend on to use in their work. Liquitex Matte Medium is one line that I have been using for years but I was not aware of the many potential uses of this product.
I have always used this product as a binder or "glue" for a type of project called watercolor collage. This technique is a mixed media project that uses 300 lb. coldpress watercolor paper, watercolor paints and rice papers with various fibers, textures and thicknesses. The rice papers are torn and glued to the watercolor paper with a water diluted matte medium and dries to a clear matte finish. The matte medium will take paint once it is dried. Here is an example of a watercolor collage painting I created.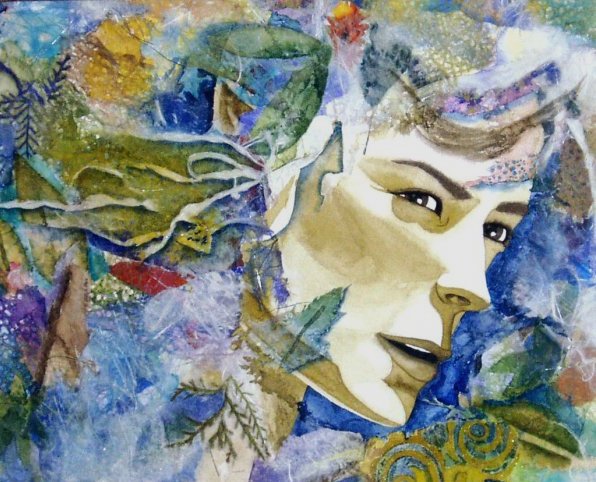 Other ways to incorporate this medium in your work is as a fluid painting medium. When Liquitex Matte Medium is mixed with acrylic paints, it takes the glossy sheen out of the paint so that when it is dried, it has a matte finish. Matte Medium will also work as an extender. It sill help stretch your paint and make it more transparent with mixed in larger amounts.
When applying it straight to canvas or wood, it works as a ground to help the paint stand up on the painted surface rather than soaking in. I have used this as a base coat when painting on wood and it helps to keep the paint from creating a bleeding edge. If you want to have the natural wood grain showing through in your art, I recommend applying a coat of this first. That way you are not limited to having to put down a colored base coat over the beautiful wood.
Lastly, Liquitex Matte Medium works as a fixitif. Similar to the workable fixitif you purchase in an aerosol can, this product can be diluted with water and sprayed through an airbrush to set chalk, charcoal and pastel drawings to keep them from smudging.
Liquitex has once again helped the artist to create amazing works with the assistance of their diverse and quality products. Pick some up and try it out for yourself.