I had the pleasure of attending GenCon 2016 in Indianapolis Indiana. For those not familiar, GenCon is the longest-running and best-attended gaming convention in the world. Next year will be it's 50th consecutive convention. You can imagine that a show of this size attracts a wide variety of art and artisans. I took some time to interview a variety of artist on what it takes to showcase art on such a broad stage, as well as tips and advice on how YOU as an artist can maximize the impact of your art table. Be sure to click the links to view more work from these amazing people!
I asked 7 basic questions:
How many conventions have you tabled at?
What was your first show?
How did you do?
What are you thoughts on Fan Art?
Do you prefer to sell original or digital (printed) art?
What price point do you find works best for selling your artwork in person?
What advice do you have for new Con-Artists?
Patterns Optional – Custom Sewing and Fashion Design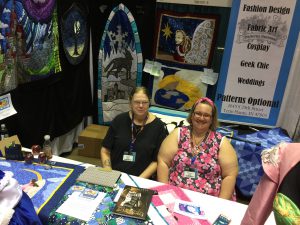 The first table that gave me pause in the sea of the exhibition hall was a duo who called themselves, Patterns Optional. Kathy Dillion and Sarah Marchino are based out of Terre Haute Indiana. These ladies specialize in handmade quilts, clothing, and custom orders, including a complete Star Wars wedding ensemble! GenCon is their 7th con over the course of 3 years, the first being Indiana Comi Con. The first convention went well enough for them to be encouraged to continue and sign up for another. Both of the ladies attest that fan art helped them get initial attention. They created a Wonder Woman bridal gown that garnered LOTS of attention! This start has allowed them to branch out to create more of their own original creations. Price points vary, especially given their unique work. Custom pieces have sold as high as $1,500, and after examining their work first hand, they're worth every cent.
Their advice for artists looking to table is encouraging: "Jump off the cliff and DO IT!" The ladies have worked together for 6 years and enthusiastically agree, the experience is worth the risk!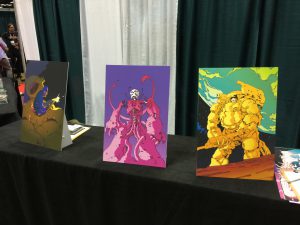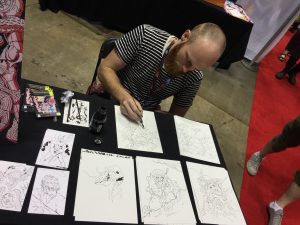 Dashiell Kirk is an illustrator out of Maryland and I was thrilled to find out this was his FIRST convention. When asked how it was going, Dashiell was having excellent luck with people stopping to watch him work and talk about his art. Working at your table is an excellent way to draw people in and earn commissions. When asked about fan art, Dashiell stated that he has nothing against it, but he prefers to do original designs. And while his work is original, he stated that he drew inspiration from Heavy Metal, Akira, and various retro arts. His prices range from $10 for small prints and $20 for large. He also takes on-site commissions.
His advice to first time artists is: DISPLAY your art. Make sure it's visible! Make it unique. In his own case, the over-saturation of color makes his pieces extremely eye-catching and the intricate line-work  begs to be looked at closer.
Little Guardians by Ed Cho and Lee Cherolis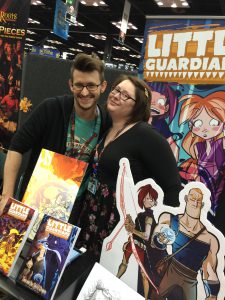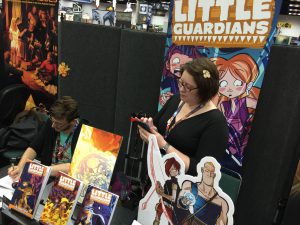 Little Guardians is a web comic that has been in production since 2011. I found Lee and his lovely wife, Sam (also an artist) selling the latest installment of their comic in Artists Alley.  When I asked them how many conventions they'd tabled at, the first comment was, "Oh sh**" They've been at this for TEN YEARS and estimated that they've probably been to 50-100 shows. The very first show they tabled was Wizard World Chicago.  The first experience was a great one, selling art unexpectedly well and most important of all, networking and making contacts. When asked about fan art, Lee immediately scrunched his nose. He believes fan art is kind of a grey area, and if you have the owner's permission, than go nuts. Otherwise, it's better to stick with your own original art.
The couple had good advice for price points. $5, $10, and $20 works great, whatever you can do to avoid breaking up bills. Bundles are also a great way to get people to spend just a little more, for example they're selling all four of their comic books for $40, a stellar deal! They've also embraced swiping credit cards via their iPad and/or phones. You can find several different services that offer free credit card swipers with reasonable fees such as Etsy, PayPal, and Square.
Lee's advice for new Con-Artists: Attend a few conventions first and takes notes on what you see. Bring your own food and drinks to save yourself some money! (It goes fast!) Also, consider splitting a table and hotel costs with another artist as another way to save some overhead.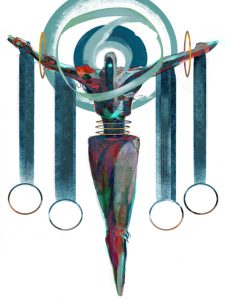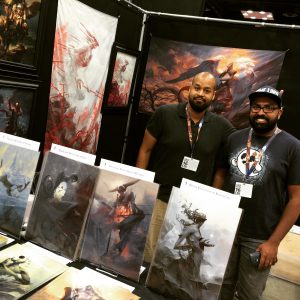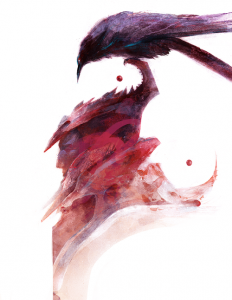 Eli Minaya and Allen Panakal (interviewed below) were both in attendance at a table featuring their art, as well as Peter Mohrbacher's Angelarium series. Eli said that this was his 13th show in as many as 4 years. His first show was MegaCon Florida and he did horribly. He said he'd brought the wrong kind of work (abstract) to the show and it wasn't well received by the crowds. When I asked about fan art, Eli had some good points. Fan art is fantastic for smaller projects, because it serves to amplify the reach and the interest. He says that there is definitely a place for it, but personally doesn't delve into it much. Eli suggested selling original work in the form of commissions. He also brought up the convenience of selling in bundles. His prints are selling 1 for $25, 2 for $40, and 3 for $60. The table was really busy while I was there, so they seemed to be doing well.
Eli's advice for new con-artists: Get rest every day! Learn to draw under pressure. Talk to literally every person that walks up to your table. Every artists, attendee, interviewer, everyone.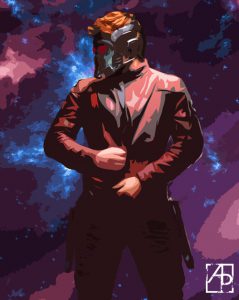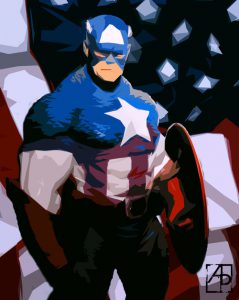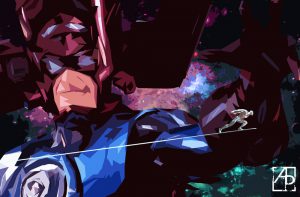 Allen Panakal is an artist I tabled across from at a show and I was happy to see him again at GenCon. He estimates that he's shown work in over 20 shows. His first convention was C2E2 2014 in Chicago and it went spectacularly! He attended the show with a small collection of 8 illustrations and it was very encouraging to have such a positive response. He attributes this to helping him refine his own style.  On fan art, he had some great things to say.
"I started out as a fan artist. I don't think it's so wrong to do fan art when you are starting out your art career. I do, however, feel you shouldn't get stuck creating only fan art. You can still do some commission work here and there, but you should focus on your own project. I'm not saying stop making fan art, people love it, but focus on your own original ideas too. They're in your head, you just need to allow them time to come forth.
I'm working on my own series titled The Ancient Ones. I've been writing the stories for over 4 years now and I'm finally creating illustrations for my scenes and characters. Getting a lot of positive feedback on it too. So that's a good sign. The fan art I create now is usually commission work."
Allen's price points work as follows, one for $20 and two for $30. As his work grows more popular, he'll up that to $25 for one and $40 for two. It's important to adjust your prices as your work becomes more popular. 
His advice for new Con-Artists: "Don't put to much pressure on yourself for you first couple shows. Try to start at local ones so you can drive to it and home each night. Have prints at normal sizes such at 11×14, 11×17, 12×18. Awkward sizes make it difficult for the customer to frame. You don't need a ton of products. I sell canvas pieces, prints and playmats. Sometimes giving them too many options can overwhelm the customer."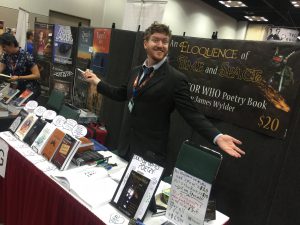 James Wylder is an enthusiastic author, playwright, and poet based out of central Indiana. Over the past few years, James has exhibited his work at least 15 times at various shows. His first convention was Indiana Comi Con and his work did amazingly well! The guest that year was Jenna Coleman, and having a book of poetry written for every episode of Doctor Who really hit home with a lot of attendees. Due his success with an established story such as Doctor Who, I was curious what his thoughts on fan art were. James felt that people expressing their creativity for things that they enjoy is a valid form of art and should not be punished. That being said, he also believes that there must be a balance in creating original and fan art. Relying solely on one or the other could end up holding you back from a bigger potential audience. James price points are solidly stuck on $10 each, $20 for his popular Doctor Who poetry, and it works wonderfully!
James' practical advice for new con-artists/authors: Never let the police find you. For your first convention, bring more set-up supplies than you think you'll need. Tape, velcro, hangers, scissors, paper and markers to adjust signage. He also suggests parking further away to save on parking costs! All very good advice.
---
Please take time to visit the links in the artists' names to view their incredible works!