Since I constantly move from one art project to another, I like to keep my cleanup time at a minimum. I prefer to use a paint palette that does not require any scrubbing. Just rinse and you're done! For those of you who share my habits, the FolkArt One Stroke Palette is totally the way to go.
The FolkArt One Stroke Palette is made to hold round paper or styrofoam plates. You can mix paint on the surface of the plate and then pop it out and throw it away when you are done. Seriously, cleanup is so easy. The small wells around the center area are also useful for mixing paint. But it's better to use the white plates, because it is easier to mix colors on a white surface. For the cost and the comfort, the FolkArt One Stroke Palette is a steal. I have been using mine for over ten years and it still works like a champ!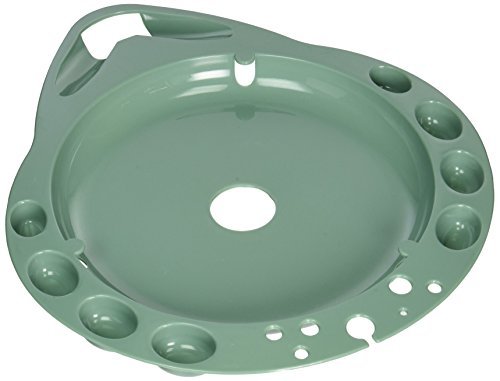 I really like to use this palette when I am standing up to paint at my easel, or when working on a wall mural. It's a handy size, easy to hold, and it's made out of durable plastic. I'm left-handed but it still works awesome for me. It even has a place to hold brushes, so that you can switch them out without having to hold them all in one hand or bending over to grab another brush while painting.
You can also place the palette on a tabletop for kids to share, hopefully limiting the mess they can create during a painting project!